Branding Field Trip - Lucky Goat Coffee Co.
A field trip to a local business to examine the many elements of successful branding.

For my field trip, I visited Lucky Goat Coffee Company, a roasting company and coffee shop exclusive to Tallahassee, Florida. First opened in 2014, the success of Lucky Goat has led to a quick expansion and three separate locations. I visited the Midtown location for this project because I had not been before. Midtown Tallahassee is an up-and-coming area and gentrification of older homes and businesses has brought a younger market to the neighborhood. Lucky Goat felt like a perfect fit so I was excited to see how it varied from the other locations and what kind of crowd it served.
Before heading out the door, I visited the Lucky Goat website. I saw it a long time ago before my first visit and noticed this time that they had upgraded nicely. This may sound cynical, but my branding expectations for any business native to the Panhandle are very low. There are some fun attractions and events in northwest Florida, but the information provided online is often minimal and the lack of thought in the design leaves something to be desired. I was pleasantly surprised by Lucky Goat though... 
The website uses a color palette synonymous with coffee: browns, black, and natural neutrals and if not for the giant logo, it would look a little generic. I love the "Get Lucky" and goat icon at the bottom of the landing page. It's clever, relevant, and reflects a cheeky and casual tone of voice. There is something disappointing however, about a brand when they do not update their site, and the disabled videos on the "About" page are an example of that.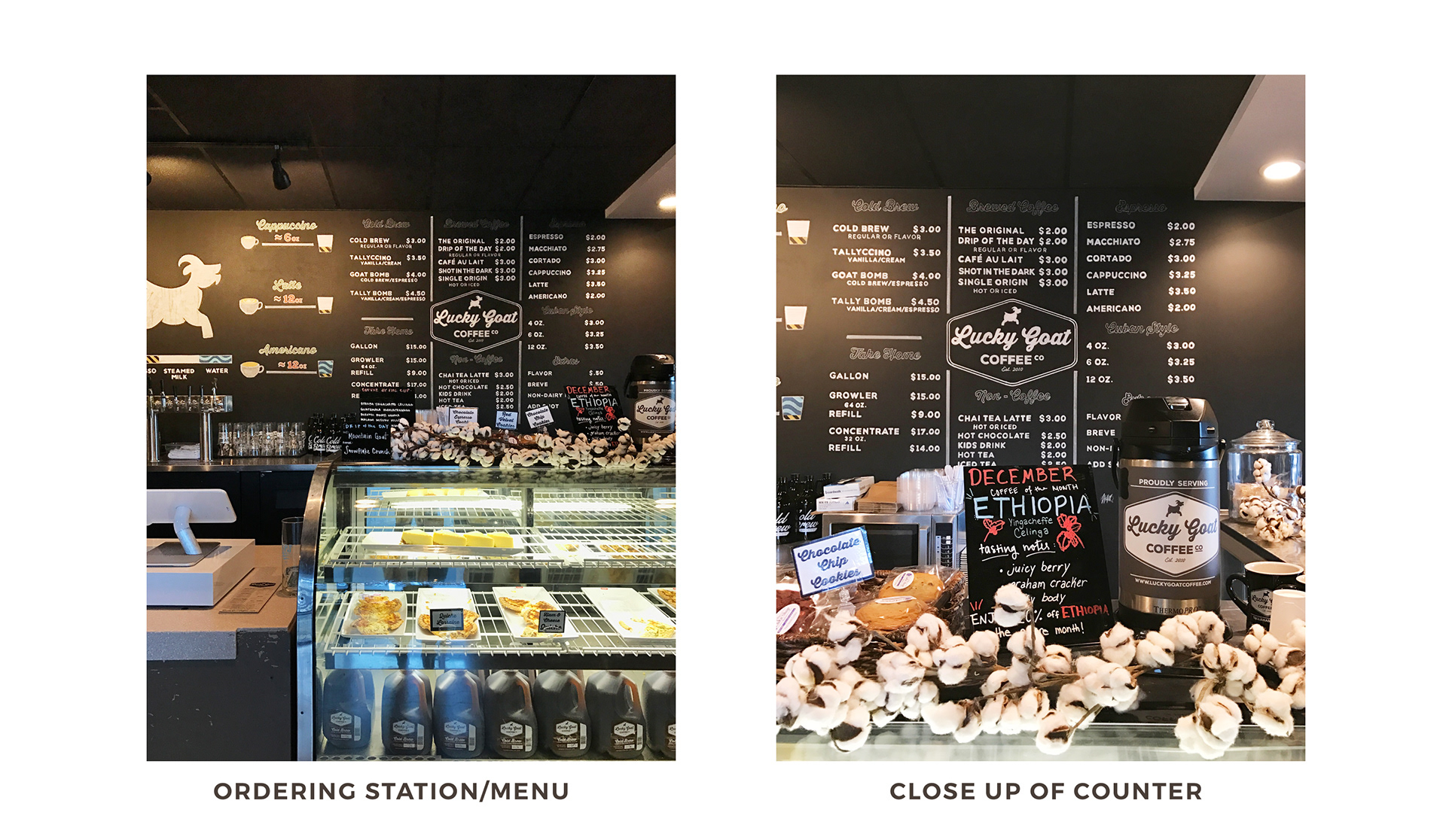 All of the Lucky Goat locations have a huge menu board with Tallahassee-themed drinks like the Tallyccino. The board also has a graphic representation of each drink's recipe that surrounds their goat icon. They like to push their cold brew, which is served through a tap, and they sell take-home containers of it in growlers. Both the tap and growler are elements synonymous with craft beer companies. They even serve the cold brew in pint glasses with a logo on it. I was greeted by three very friendly young people in Lucky Goat t-shirts and aprons. After ordering I sat near the register and noticed they had a lot of regular customers that were greeted warmly, and they were always eager to chat with patrons. To me, this reflected a casual and friendly atmosphere and a desire to connect with the community.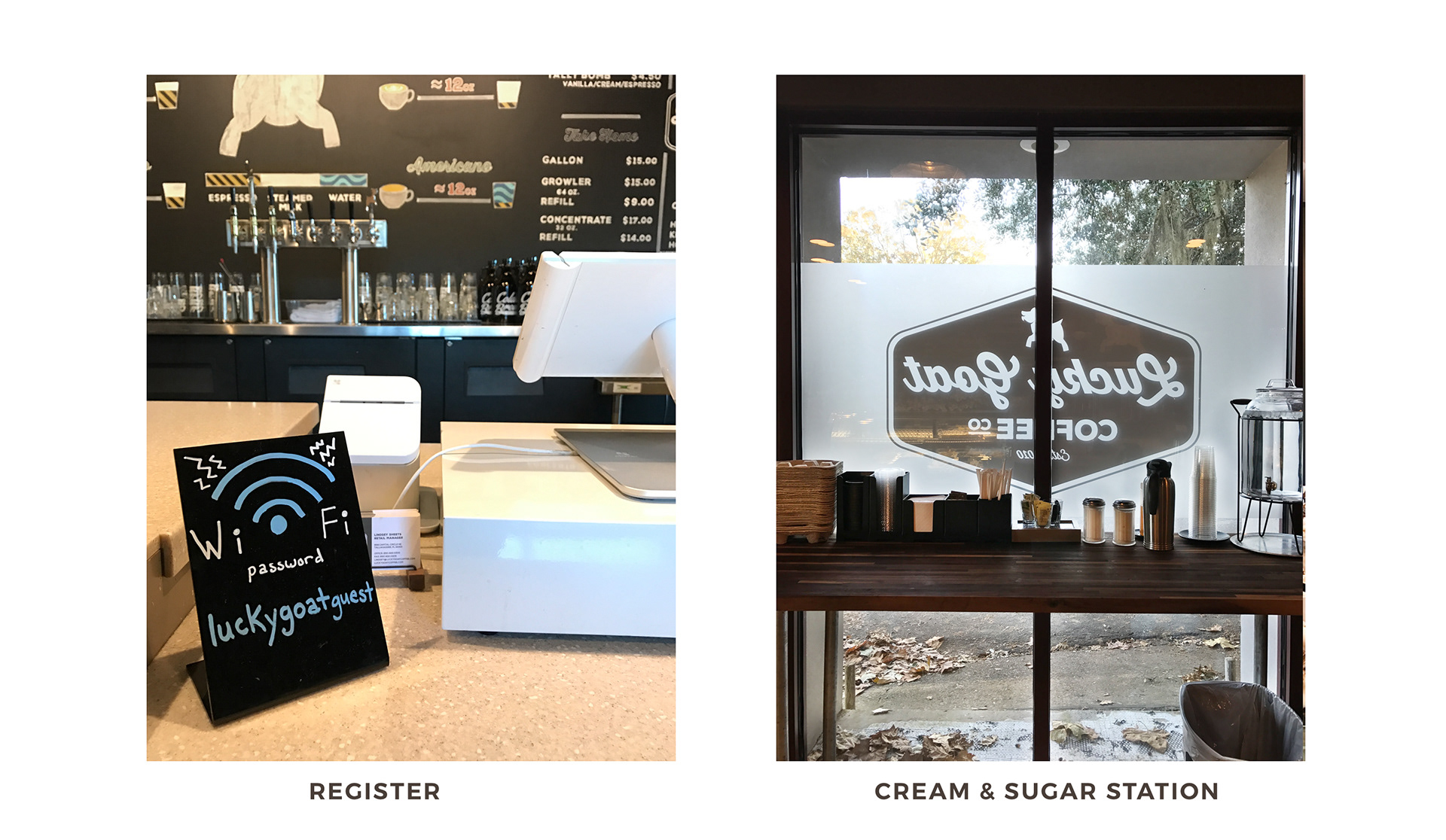 The shape of the space is kind of odd in that it is narrow and lacks natural light. There are about ten two-seater dining tables that line the left side of the store and lead back to the restrooms on the right and a back patio out the glass door. What I found interesting about this space was that there were only two tables with four seats, most of them accommodated only two people. Furthermore, the lighting in the space was very dim. You can see the industrial lamps overhead, and the recessed lights around the bar, but all of this said to me "come in and enjoy, but please don't meet your study group and stay for 5 hours." This reinforced what I suspected in that Lucky Goat's target market is young professionals, single people with disposable income, and young families. This location is further from FSU's campus than many other coffee shops, so students will probably not venture out this far to study.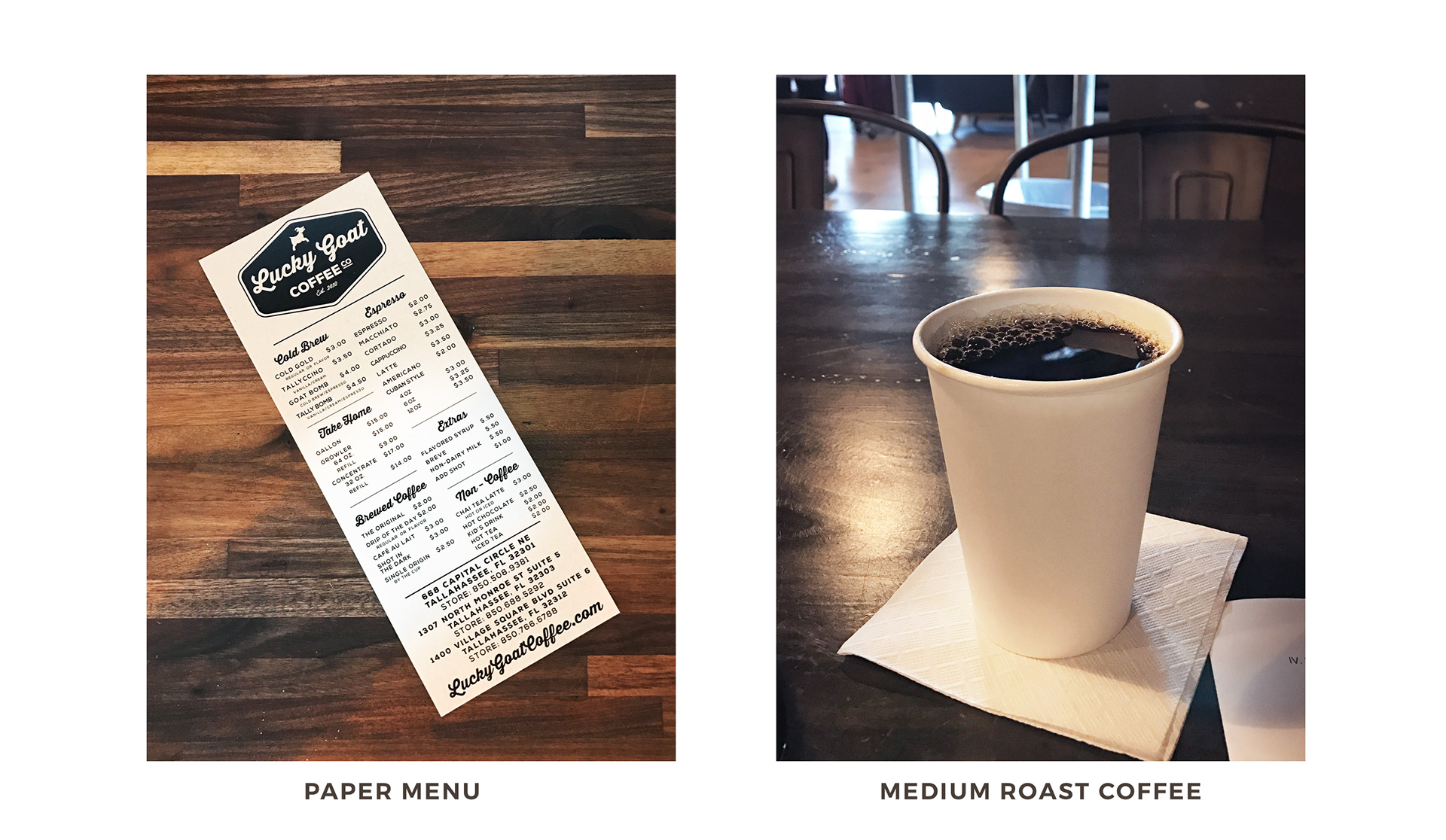 You can see that the Lucky Goat logo is on almost every surface of the store, so I was disappointed that my cup of coffee didn't have a logo, let alone something clever like a tagline or graphic. I've visited quite a few independent coffee shops and even a homemade stamp in ink on the cup is better than nothing. I think they missed a great branding opportunity here. I checked the cup sleeves and lids but they were blank too. I did catch a glimpse of a take out bag, which was a brown paper bag with handles and a logo on it. I think it's more important to place a logo on the elements of the brand that leave store because that's what the public will see. It's one way the brand will touch people that are not yet customers, and if it's great, it can create interest and draw them in. 
Overall, I really enjoyed this experience and visiting a Lucky Goat location I was previously unfamiliar with. It's amazing how much you can learn from sitting in a space for an hour and observing. There were a lot of branding elements that served Lucky Goat well, like their logo, which was on everything from doors and windows to the bags of coffee they sell at the register. The menu board is another successful branding element because if anything is getting Instagrammed by patrons, it's that board. There were some missed opportunities in the cups and napkins, but overall I think the brand was consistent between their online presence and the store experience. It was casual, warm and friendly. I would have loved to see "Get Lucky" and a goat on my coffee cup or cup sleeve. If I could expand on their brand, I think I would follow through with their subtle hints at craft beer and add bar stools to the serving counter so it feels more like a bar. I also think there are greater opportunities to reach the market they serve. Incorporating more social media elements into the store experience would create awareness among millennials and expand the brand's reach. For instance, a hashtag on a cup or the menu board could start the Tallyccino trending online. #GetLucky sounds kind of perfect too.